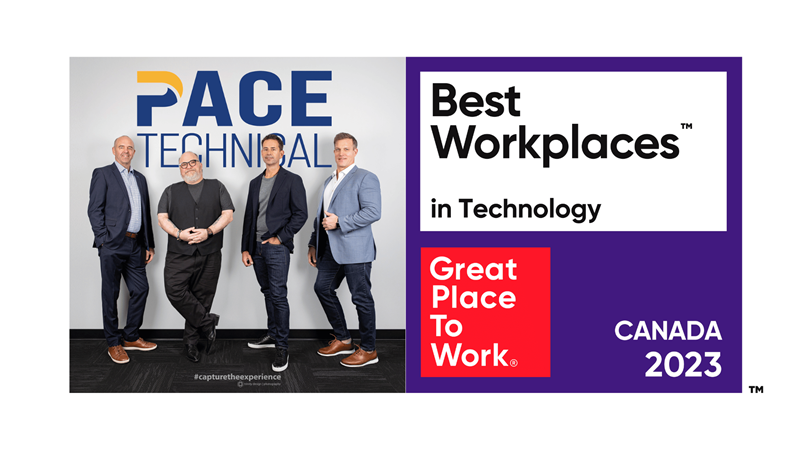 PACE Technical is a 2023 Best Workplaces™ in Technology!
PACE Technical is proud to announce that our organization has been named again on the 2023 Best Workplaces™ in Technology list. PACE has received this honour after a thorough and independent analysis conducted by Great Place to Work®. To be eligible for this list, organizations must be Great Place to Work™ Certified in the past year, and work primarily in the Technology Industry. It is also determined by employee responses to their Trust Index Survey.
At PACE Technical, we are committed to creating a positive and inclusive work environment where our employees can thrive and reach their full potential. This recognition is a testament to our ongoing efforts to prioritize employee satisfaction and engagement. We believe that our success as a company is directly linked to the happiness and well-being of our team members. We strive to foster a culture of trust, collaboration, and innovation, where all individual contributions are valued and respected.
Being named on the 2023 Best Workplaces™ in Technology list serves as a motivation for us to continue investing in our employees and ensuring that they have the resources and support they need to excel in their roles. We are grateful to all our dedicated employees who have helped us achieve this prestigious recognition. We would also like to express our gratitude to Great Place to Work® for their thorough evaluation process and for acknowledging our commitment to creating an exceptional workplace.
Looking Ahead
As we move forward, we remain dedicated to nurturing a culture that promotes employee well-being, professional growth, and work-life balance. We will continue to listen to our employees' feedback and implement initiatives that foster a fulfilling and rewarding work experience. This recognition reinforces our belief that PACE Technical is not just a great place to work, but a place where individuals can truly make a difference. We are proud to be part of the 2023 Best Workplaces in Technology list and will strive to uphold this distinction in the years to come.
About PACE Technical
PACE Technical is a leading MSP that specializes in providing comprehensive IT solutions and services to small to mid-sized businesses and law firms across Ontario. With a team of highly skilled professionals and a client-centric approach, we help organizations leverage technology to drive productivity, efficiency, and growth. Is your firm or business interested in working with PACE or learning more about how we can help your organization? Contact us here today.